Spring 2014 Course Catalog
[ARCHIVED CATALOG]
Food Service Administration – Dietetic Technician (Nutrition Care) A.A.S.
---
Division: Natural and Health Science
Academic Dept: Food Service Administration
HEGIS: 5404
Curriculum Chair: Teresa Schlanger
Tel: 914-606-6750
Working under the guidance of a registered dietitian, the dietetic technician is responsible for securing and evaluating a patient's diet history; interpreting a physician's diet orders; assisting patients in making menu selections; instructing individuals, families, or groups about normal nutrition and routine medical nutrition therapy; planning menus at different economic levels in accordance with varying cultural patterns; and collecting needed information from a patient's chart to formulate a nutrition care plan. Additionally, students are exposed to the functions of a hospital food service, preparing them for management positions in this or similar types of establishments.
A unique aspect of this program of study is the 450-hour, professionally supervised clinical practice in area hospitals, nursing homes, and community agencies. This experience enables students to implement the skills and principles taught in the classroom. Students are required to wear the designated uniform in clinical practice.
A malpractice fee is payable each academic year that the student is enrolled in a practicum, and a physical examination is required once yearly.
The Dietetic Technician program is designed primarily for students who plan to seek employment directly upon graduation. Graduates have secured positions in health care facilities (hospitals and nursing homes), community agencies, and wellness and weight reduction centers. Graduates also may transfer to baccalaureate programs. Our students benefit from transfer agreements with local four-year colleges. For more information regarding the dietetics profession , please visit www.eatright.org.
Our Dietetic Technician program currently is accredited by The Accreditation Council for Education in Nutrition & Dietetics, a specialized accrediting body recognized by the Council on Postsecondary Accreditation and the United States Department of Education. Graduates are eligible to take the certifying exam to become "Dietetic Technician, Registered" when they earn a verification statement upon graduating.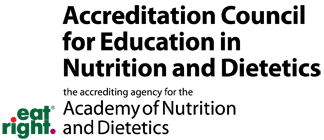 Students enrolled in the Dietetic Technician Program must maintain a minimum grade of "C" in required departmental courses in order to continue in the program.
For students who plan to transfer directly from Westchester Community College into four-year programs specializing in nutrition and/or dietetics, Food Service Administration – Foods and Nutrition A.S. , is also offered.